Another year, another study!  Praising God for the
opportunity to share His Word.
We are praising God for the opportunity to minister to the people of Ecuador and for the work Eric is able to do with the men here.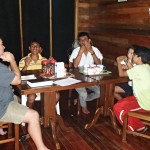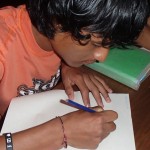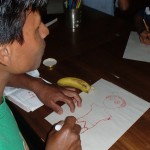 Congeal, Cafe, y la Palabra de Dios…
(Popcorn, Coffee, and the Word of God…)
What a combination! Mix in some Ecuadorians, a pink-cheeked white guy, a ton of laughs and there you have it…a magnificent Bible study…."Misahualli style".
I feel so blessed to be a part of this special time each Monday evening. I am greatly humbled by the fact that Luis(26), Franco(16), Jefferson(16), Jipson(12), and Senor Pedro(63) would walk nearly two miles to our cabana for a Bible study after a long, hot day at work and school. The time flies by. We read. We discuss. We ask questions. We search for the answers in the Scriptures. We drink coffee. We eat popcorn. We laugh. We praise His name. We grow.
I always ask if anyone would like to close the study with prayer, and everyone around the table stares at one another. Luis takes a deep breathe and softly whispers, "I'll do it, but I don't want to mess up." Franco speaks English well. He translates to fill the huge gaps in my lacking Spanish skills. "It's alright, Luis, you can't mess up," I encouraged. Luis looked me in the eye for at least three seconds, took another deep breathe, and slowly bowed his head. He prayed in Spanish a simple and short prayer of which was not translated by Franco. There was no need, as it was quite apparent where it came from…a reverent and humbled heart. God is always working. May we never forget that. It is a great blessing to serve.