We are so excited to share with you what the Lord has been doing in our lives from the jungle to the mountains!
We began teaching (and learning!) in 2012. Our experience teaching in the United States, along with Eric serving as a youth director and his gift for music, has given us a unique foundation for this ministry.
We are serving the areas around Misahualli, Ecuador and Paute, Ecuador.   Offering Bible studies, English classes using the Bible as the primary text, men's and women's Bible studies, children's and youth ministries, puppet ministry, aquaponics/water system ministries and working with indigenous missionaries downriver keep us excited!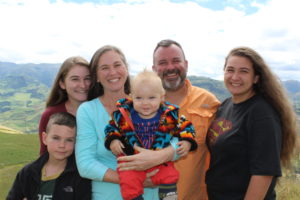 As we build relationships and work with the people in the surrounding areas, we continue to pray for wisdom to discernment on how to manage all of the details in between.  We are humbled by all of you who continue to pray for us- thank you.
As of January 2016 we went on medical leave in the USA in order to deliver blessing number 4, Malachi. He arrived on Sunday, April 10, 2016 by an emergency c-section and 10 days in NICU.  Our  return date to Ecuador was August 1, 2016.
In December of 2017 we once again returned to the US for a time of rest and renewal.  Our return date to Ecuador has not yet been determined but we are estimating December 2018. Eric works outside the ministry when we are in the States. It supplements our income while we are there, our support that meets are needs in Ecuador is not sufficient to live off of in the USA.   He has been blessed to get a job in the N GA area.
Madeline has earned a Presidential Scholarship at a local college. This four year scholarship covers all of her tuition and books. She has also received some Federal assistance.  That being said, we still have to pay part of her room and board while we are in Ecuador, SA, so Eric is working overtime to get that. Abigail, Elijah, and Malachi are being home schooled.
While we try and keep this site updated, you may have some questions and not be able to find the answers on this website.  No problem!  We make frequent updates on Facebook or you can reach us by: email at [email protected],  telephone 828-216-9535,  and by mail
POBox 744, Blairsville, Georgia 30514
or through Amy's parents at :
Studebaker Family c/o Carters, 129 General Griffith Circle, Rutherfordton, NC 28139
Please take a few minutes to check out the other pages on the website.  The drop down menu can take you to descriptions of the various ministries, the photos speak volumes, and the blog fills in what our daily lives and ministry look like.  Thanks for stopping by our webpage!