This all happened last year, while cleaning out the house we were renting in Misahualli.
What my dad found that day left him permanently scarred.
"AAAAHHHHHH!!!!!"
It's a normal day in the jungle. Birds singing, your father screaming.
(Okay, a little less normal than you'd like to admit.)
What's wrong with him? Doesn't he realize your family has a reputation? We can't expect people to want to attend Bible study when we're shrieking like we're possessed!
I slim down the possible causes of his scream based on the endurance and intensity of the… high-pitched vocalization.
1. he found another boa constrictor
2. he's being attacked by demon monkeys
3. or he's medicating his poisonous spider bites.
"AMYYYYYYYYY!!!!!"
I sneak outside to the backyard where mom and dad are peering into a little wooden box, looking totally freaked out over the contents.
Trying to get a better look inside, I get closer and closer to the mysterious box. But dad spots me.
"Back, back!" he starts yelling. (This is where it seems likely that he ordered me to shield my eyes, but I don't necessarily remember that part.)
"Mom. What was that thing?" I ask a few minutes later, from the safety of the kitchen.
"Well… A human skull." she answers.
"You're kidding me."
"Nope."
"A human skull? A human skull!" I bellow. Unreal.
"Shh!"
"Oh, sorry. Can I see it?"
And there it is. Empty eye sockets staring at me. Missing its mandible. Totally discolored to a mottled brown and yellow -not white like you'd think.
Here's the best part: bundled in wrapping paper. Happy birthday?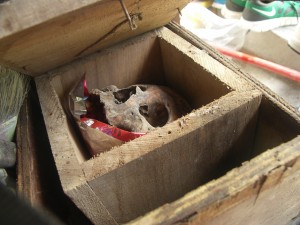 "Dad! How did you find that… thing?"
"Well, I was going through the stuff in the shed, and I opened the box, and -ugh! -there it was," he exclaimed. "Staring at me!"
"Who do you think it is… or was, or whatever?" I asked.
"I don't know," mom said. "Relative, maybe?"
"Ah, yes, guardian of the house." I say in my creepiest voice. "What have we done? Disturbed its peace, that's what we've done! Awakened its spirit! Ooooh! Woooo!"
"Cut that out!" Dad orders.
"Sorry."
So. Don't ask my dad about the skull.
(We've been told its fairly common for skulls and other bones to be left to "guard" houses, so… I was also sort of right. Just saying.)