We've been back 12 days already!!
We've had a blessed return with safe travels, old friends and new!
Our luggage was picked up in Blue Ridge by Pastor Marcus McGill and taken to Jacksonville, FL.
From there, Pastor Mike Reed took the 12 pieces of luggage to Bushnell FL.
We have yet to meet Pastors McGill and Reed!
Josh, a friend of ours picked us up in Bushnell, FL and drove us to Miami pulling a trailer with our luggage.
Our luggage was taken curbside and were processed  in minutes without incident.
The flight was changed to a nonstop from Miami to Guayaquil, Ecuador.
We arrived after a 4.5 hour flight and our local friend Nestor was waiting to take us across the Cajas to Paute.
(No-one got carsick!)
We had several days worth of work getting our personal items out of storage and unpacking our bags.
Becky caught us up to date with the status on the orphanage, aquaponics, classes and chickens and made sure we had some food ready in the freezer!
---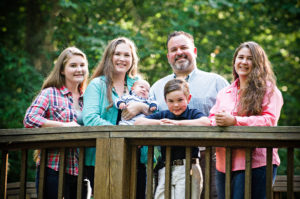 Eric is going to be preaching at the local church,
and we are searching for an affordable automobile so we can minister in the surrounding areas
and orphanage with all 6 of us.
(Thinking about sending support? Look here: http://soallmayknow.org/contact-us/ )
Malachi just turned four months, classes online and homeschool begins the last week of this month,
and Elijah wants to resume karate.
We are praying about the best ways to build community and  reach the youth in the area through the SIP.
We are seeking God's favor with the incoming director at the orphanage.
We strive to keep you updated on what is happening here so you can pray for us.
Please feel free to help us by sharing with your church or small group.
So All May Know,
The Studebaker Family
Eric, Amy, Madeline, Abigail, Elijah and Malachi
---